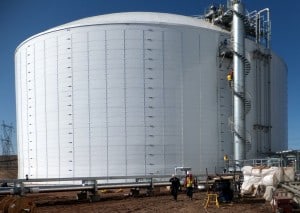 If your business is in the need of tank insulation, contact one of the most professional and experienced tank insulation contractors around. Thermacon is one of the leading tank insulation contractors and we have been provider of tank insulation systems since 1971. Our tank insulation systems are pre-engineered and our sidewalls are available as horizontal panels or vertical standing seam panels. Our systems are completely customized for each individual tank insulation project. We offer a huge selection of finishes, thicknesses and colors, as well as many options for our insulation materials. Our engineers and designers will help you select the best product to meet your project's specifications and operational goals.
We service companies of every size all over the country and we also have international clients. We have designed and installed products for various industries including wastewater, energy, food and beverage, fire protection, petrochemical and water storage. We are considered one of the most qualified tank insulation contractors because we use state-of-the-art tank insulation systems.
There may be other tank insulation contractors in the industry, but only Thermacon uses the latest computer-aided design equipment and incorporates specific operational, wind load and climatic conditions into every system we create. In addition, compared to other tank insulation contractors, only our engineers will work with you to select the proper materials for your operational needs and budget. We consider ourselves one of the highest quality tank insulation contractors because we offer only high quality products and services.
Thermacon is one of the only tank insulation contractors that offer a combination of excellent customer service, quality products and expert and reliable technicians on any every job that we perform. All other tank insulation contractors cannot beat the quality services that we provide. As a result, we have developed a great reputation in the tank insulation industry.
Customers that are inquiring about tank insulation contractor will find that Thermacon is a leader in the industry. If you choose Thermacon for your tank insulation system, you will be in direct contact with professionals that will create an innovative solution for any issues you may have with your shell, sidewall and roof insulation. Our sidewall and roofing insulation systems are designed and engineered by the experts on our engineering staff. Thermacon will take all of your requirements into consideration and will create a unique system will meet your needs, whether your business stores petroleum products, gases, chemicals, beverages or wastewater treatment.
Compared to all the other tank insulation contractors, Thermacon has developed the highest standards when it comes to the services we provide and the customers that we service. Thermacon works directly with customers to design and construct reliable and attractive tank insulation systems that meet every requirement.
You can count on one of the leading tank insulation contractors for all of your tank insulation needs. Contact us today at 1-877-815-8610 or email us at info@thermacon.com. We offer excellent service and quality workmanship in all that we do.